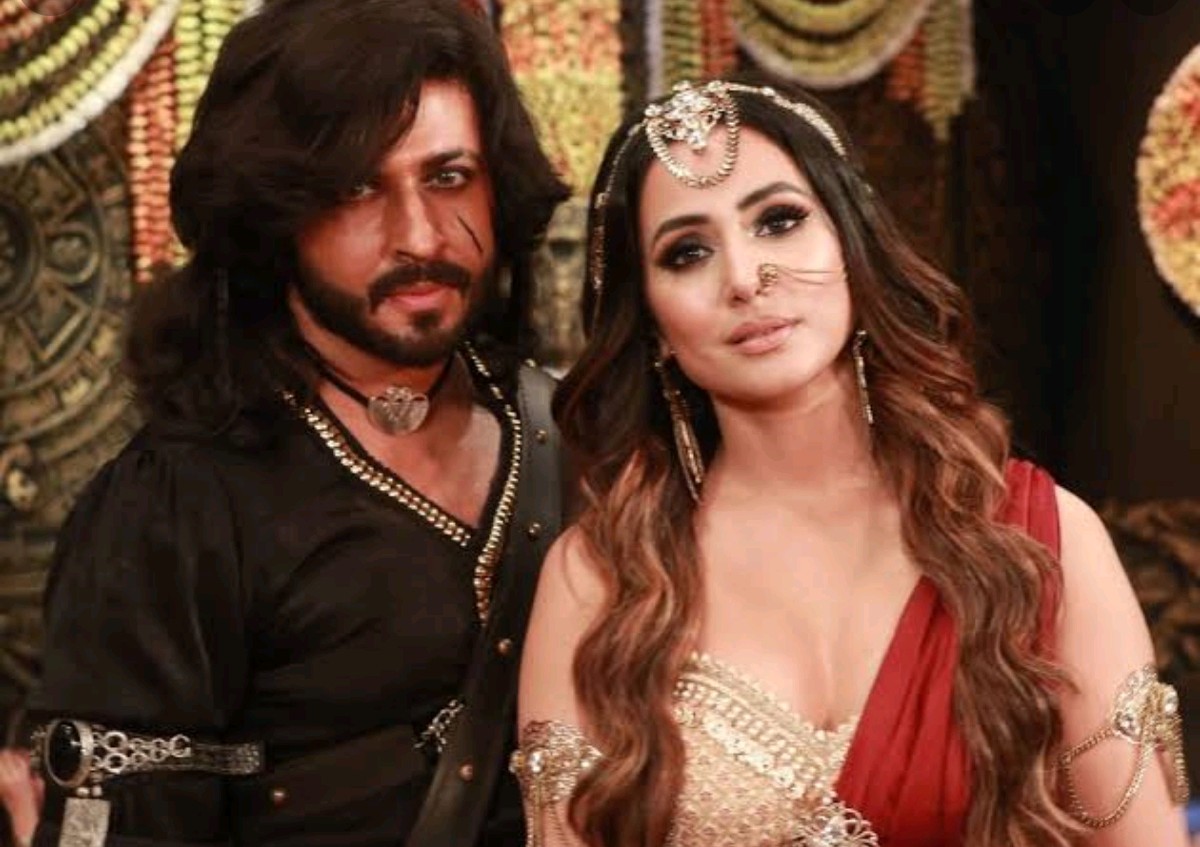 hello friends..iam back with second episode. Iam sorry for taking so long..it will be regular from now on. Please do comment..
Recap: Nageshwari and Agastya loves each other. When Agastya goes out from country..Aakesh a secret obsessive lover kidnaps nageshwari's mother and sister and blackmails her to stay with him. Without any options.. nageshwari lives in aakesh's palace. After some days or months.. nageshwari is seen getting ready..
Nageshwari gets ready for her marriage..
Nageshwari:today is the day which you was waiting for it Aakesh..and the day came. Lets get married..
Nageshwari smiles while Aakesh comes and smiles at her…
Aakesh:wow..my bride is looking very sizzling. Our marriage will be in such a way that the whole world will keep it as an example.

Nageshwari:yes..they won't forget our marriage.
Aakesh forwads his hand and..
Aakesh:are you ready to become mrs.Aakesh?
Nageshwari holds his hands and smiles..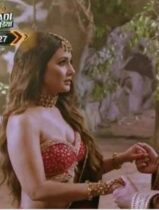 Nageshwari:yes..iam ready.
Aakesh:then come lets go…
Nageshwari:ok..
Aakesh and nageshwari goes to a temple and they get married..
Aakesh: finally..my wait is over. You have become my queen..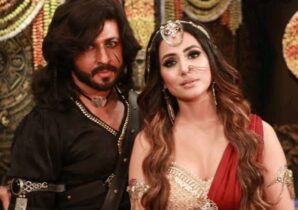 Nageshwari:yes..i have become. Shall we dance?
Aakesh smiles..
Aakesh in mind:i know my plan will work. I thought that if i make her stay with me then she will fall for me..that have happened.
Then they both dance romantically..
Dekha Ek Kwab To Ye Silsile Hue
Door Tak Nigahon Mein Hain Gul Khile Hue
Ye Gilaa Hai Aap Kii Nigaahon Se
Phool Bhi Hon Darmiyan To Fasale Hue
Dekhaa Ek
Meri Sanson Men Basi Khusboo Teri
Ye Tere Pyar Ki Hai Jadugari
Teri Awaaz Hai Hawaaon Men
Pyar Kaa Rang Hai Fizaon Men
Dhadakanon Mein Tere Geet Hain Mile Hue
Kya Kahun Ke Sharm Se Hain Lab Sile Hue
Dekhaa Ek Kvaab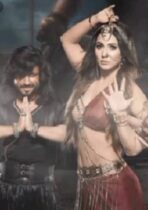 Mera Dil Hai Teri Panahon Men
Aa Chupaa Lun Tujhe Mein Bahon Mein
Teri Tasvir Hai Nigahon Men
Door Tak Roshani Hai Raahon Men
Kal Agar Na Roshani Ke Kafile Hue
Pyar Ke Hazar Deep Hain Jale Hue
Dekhaa Ek Kwaab
They reach their palace and..
Nageshwari:once i told that i don't love you and don't come near me..but after coming to your palace..i realised that i too love you. So let's celebrate our suhaagarat too.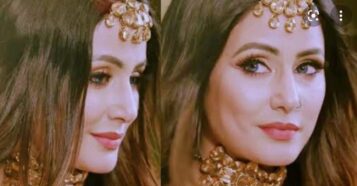 Aakesh smiles..
Aakesh in mind: iam very lucky that all my wishes gets true. No one can defeat Aakesh in his plans…
Nageshwari signs him to lift her and Aakesh lifts her and goes and places in the bed and smiles..
Aakesh:my wait for this day is over.. finally we are going to get united today.
Nageshwari:yes..
Aakesh slowly comes towards nageshwari but nageshwari pushes him shocking Aakesh..
Aakesh:what happened? Why did you push me?
Nageshwari: for suhaagarat..every wives have to feed milk to their husbands..so we will complete that ritual and then…
Aakesh smiles..
Aakesh:i understand..then feed me.
Nageshwari smiles and feeds him the milk..
He finishes the milk and smiles..
Aakesh:i hope now there is no ritual to come in between us..right?
Nageshwari:yes..there is no ritual more which will come between us.
Aakesh slowly leans on nageshwari and he romances her..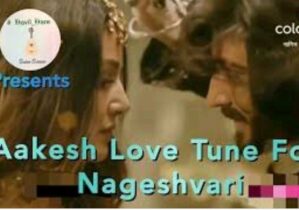 then later he lies on her lap and caresses her face through his hands..
Aakesh: you are my everything. You are the angel for me..and no one can snatch you from me. We will live until this world ends through borning in many births..
Nageshwari smiles and caresses his face and suddenly Aakesh starts coughing heavily and white foam starts to come out from aakesh's mouth shocking him..
Aakesh :wh..wh.. what..what is happening.. happening with.. with me?
Suddenly nageshwari laughs evilly and pushes him on the bed and claps her hands..
Nageshwari: what do you think yourself? Do you think that iam a fool to love such a evil like you? No..never..i will never love you in any births. It's my plan to trap and kill you. Today is your death.. you will die on my hands for troubling my family and separating me from my lover Agastya.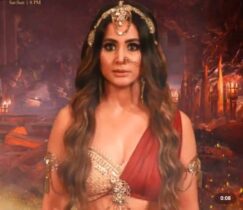 Aakesh gets shocked while nageshwari recalls her plan..
FB IS SHOWN:
The day before the marriage Agastya entered nageshwari's room in aakesh's palace shocking her..
Nageshwari:ag.. Agastya?
Agastya gets emotional and hugs her immediately while nageshwari too gets emotional and hugs him tightly..
Nageshwari:i wa..was waiting for you.. finally you came. Now..now i have a hope that you will save me and my family from this evil Aakesh.

Agastya: don't worry..i will surely save you all.
Nageshwari:but how do you know that i and my family is here?
Agastya:after i returned here..i was searching for you but i couldn't find. Then a lady came and told that she saw Aakesh kidnapping your mother and sister and blackmailed you to stay with him and you too agreed to save your family. That lady told that she tried to help you by coming outside the palace but she was caught by the guards and thrown away..so she prayed for you and for your family to get saved from this evil. Then after i returned..she pleaded me to save you unknown that iam your own boyfriend.
Nageshwari gets shocked and remebers something..
FB IS SHOWN:
Nageshwari was watching outside the blacony and suddenly she saw a guard beating and throwing a lady out and got confused..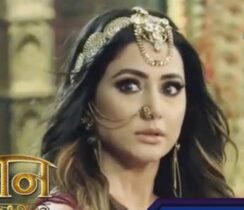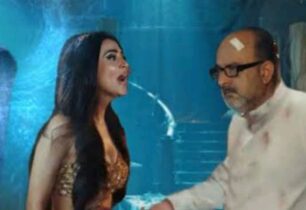 Nageshwari in mind:who is this lady? Why are the guards beating her? Shall i save her…no..if i try to save her then Aakesh may harm my family. So I'll better stay away from his matters.
FB ENDS..
Nageshwari: that..tha means that lady came to save me which i refused to help her.
Agastya:that means you know her?
Nageshwari:yes..i saw her near my palace and the guard were beating her but i couldn't do anything as i was scared that Aakesh may harm my family.
Agastya:hmm..but why is she desperate to save you? Do you know her already?
Nageshwari:no..i don't know. But there is something fishy..but now first let concentrate how to escape from here and then we will ask her.
Agastya:ok..
Nageshwari:then think some idea soon..
Agastya:there is only one way..you have to kill him.
Nageshwari:what?how..how can..can i?
Agastya: he is evil. Evil has to be ended one day..so you have to end his chapter. If you don't do then you can't escape and we can't unite and your family can't be saved. So please..
Nageshwari agrees..
FB ENDS..
Aakesh:you..you betrayed me..
Nageshwari:i dint do any wrong like you. You troubled my family and you separated me and Agastya..so it's your punishment.
Suddenly Agastya enters there shocking Aakesh..
Aakesh:yo..you?
Agastya:yes..iam your murderer's boyfriend. I came to take my princess back home..and all the best for your death journey.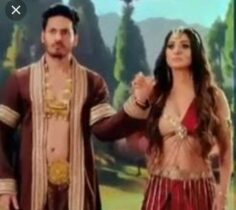 Agastya and nageshwari smiles and they both hold their hands..
They go while Aakesh struggles with the poison and his eyes is filled with anger..
Aakesh murmers:i may die..but i will never let you both to reunite. If i can't get Nageshwari then she shall not get to anyone..
Suddenly aakesh's brother sangram comes there and gets shocked seeing his condition and runs to him..
Sangram: Aakesh.. Aakesh.. what happened?
Aakesh:do..do what i say now..
Sangram:no..first I'll call some..
Aakesh angrily shouts:i will die for sure..you don't need to save me. But you should satisfy my last wish..
The white liquid comes more from Aakesh mouth shocking sangram..
Sangram:but..
Aakesh:i know you are worried for my life but the poison spread my whole body so you can't do anything sangram. As my brother please kill my murderers before they escape..please..

Sangram gets shocked..
Sangram:so you was loosened? Who did it?
Aakesh coughs and..
Aakesh:my love nageshwari and her boyfriend. I don't want to kill my love but there is no option as she should not unite with someone if i couldn't get her..so kill her too.
Sangram gets angry..
Sangram:i wont leave them both. You may kill her with love but i will kill her with hatred as she killed my brother..i wont spare them.
Aakesh coughs more and the more which foam comes and he dies..
Sangram gets shocked and cries and shouts..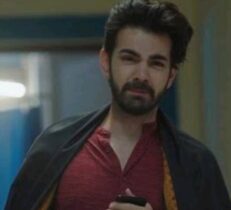 Sangram cries:aaakeshhhhh!!!!!
His eyes gets vengeful and he takes the sword, arrow and bow and he goes angrily along with the guards outside the palace..
PARALLEL SCENE:
Agastya ,nageshwari along with nageshwari family walks on the forest..
Vrinda:thank god..you came and saved us from that evil Aakesh.


Nayanthara:yes..jijiu. more than us..we are happy that my didi got you back. I was scared that Aakesh would snatch her away from you.
Agastya:ok.. don't praise me too much. Whatever happens but god won't let me and nageshwari separate. So from now on..lets forget the past and live happily hereafter.
Nageshwari:yes..
Suddenly they all met the same lady who tried to save nageshwari and Agastya and nageshwari gets shocked..
Agastya:you?
Nageshwari:so you was the lady who tried to save me?
Lady:yes..now iam relieved as you are saved and thanks to you (Agastya) for saving her on my behalf.
Agastya smiles..
Agastya:but actually thanks to you also..as you only gave the information about her and that's why i could save my love.
Lady gets suprised..
Lady:so she is your girlfriend?
Agastya:yes..
Lady smiles and blesses them..
Lady:may you both live happily without any problems forever..
Agastya and nageshwari smiles and..
Nageshwari:but you are stranger..why did you were so eager to save me?and how do you know about aakesh's palace?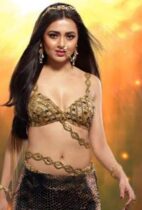 Lady:as iam also human..i tried to save you from that evil actually iam..iam aakesh's first wife. He loved me first and then he used me and thrown away and i saw you he was doing same with you too..so i tried to save you.
Nageshwari and everyone gets shocked..
Nageshwari:how evil he is? Thank god i killed him..
Suddenly a voice is heared..
Voice:but you won't be alive for killing him nageshwari..
Everyone gets shocked and turns and sees sangram with bow and arrow and sword and gets shocked..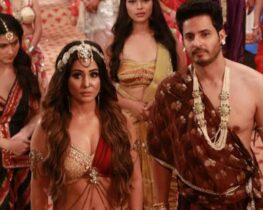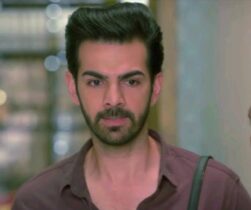 Nageshwari:sangram!!!!
Sangram:yes..how dare you chey my brother along with your boyfriend?. And how dare you kill my brother..now i won't leave you and everyone for killing my brother.
He points arrow towards Agastya and..
Sangram:first..i will kill him as he is the one for this happenings.
Everyone gets shocked while nageshwari cries..
Nageshwari cries: please.. please don't do anything sangram. You..you know how he forced me to this relationship right? Then why are you supporting evil?
Sangram:but the relationship of brother is important for me more than any crime he committed..so i will take revenge.
He shoots the arrow and it pokes Agastya's heart and he falls down shocking everyone while nageshwari shouts..
Nageshwari:agatyaaaaa..
She sits down and she tries to wake him up crying..
Nageshwari: agatyaaaaa.. please wake up.please..dont leave me alone and go..please..i cant live without you.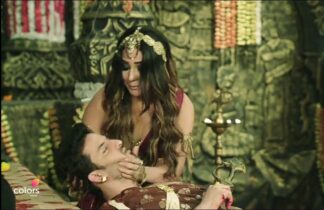 Agastya doesn't respond while sangram shoots everyone to death shocking nageshwari..
Nageshwari shouts:no….maa…Nayan…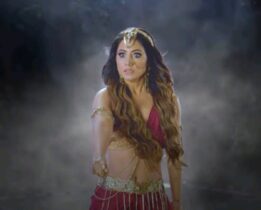 She tries to wake everyone but everyone falls dead shocking her and she cries..
Nageshwari:no..this can't happen.. everyone can't leave me like this…
Sangram laughs and..
Sangram: don't worry nageshwari bhabhi..everyone dint leave you alone as iam going to send you too to them..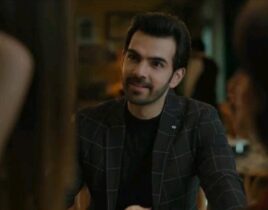 Nageshwari gets shocked while sangram comes near her and kills her with sword and nageshwari falls above Agastya..
Sangram smiles seeing them all..
Sangram:now..my revenge is over. I will go and do my brother's rituals.
Sangram turns and wallksks while nageshwari opens her eyes lying in the pool of blood and her eyes is filled with anger and looks sangram going and..
Nageshwari angrily:i will never leave you sangram..i will never leave you. I will surely come back to kill you for doing injustice..

Nageshwari too dies saying that..
THE SCENE FREEZES.
precap: 50 years later..
karan and preeta's wedding is taking place..
The post My lost love…(Episode 2 – Betrayal) appeared first on Telly Updates.